Discover the Winning Formula Behind Web Design In Hampshire That Gets You New Customers …
Hi I'm Neil Patmore, owner of Blue Spark Digital, a web design agency in Hampshire.
Fact: Research shows when people search Google for a business, they don't just visit one website, they visit several sites before choosing who to contact. Most sites will have good web design elements that look great, but in most cases, only one site will get an email or telephone call.
So What's The Difference Between The Website That Gets The Enquiry And The Rest That Don't?
In order for your website to convince someone to make contact with you, it has to do something other than simply "look good." It's essential that your website is designed to SELL (and the sale is the enquiry on a lead generation website).
So many times I sit down with somebody for a consultation and they say "my website doesn't do anything for me." And the reason is, because most web designers in Hampshire focus on making a site look pretty, instead of results.
Discover the difference – Contact us today!
The Unfortunate Truth Most Hampshire Web Designers Don't Want You To Know …
These days, let's face it, web design agencies in Hampshire are a "penny-a-dozen." There's plenty of WordPress themes available, along with drag and drop types of web design software, so with a little skill, it's fairly easy for someone to say they're a web designer and put a good looking website online. That would all be okay if a good looking website was the only thing needed to succeed (spoiler, it's not!)
What's not so common however, are web designers who design websites for local Hampshire businesses, that are skillfully designed to get you new leads and new customers.
Working with Blue Spark Digital (Hampshire's premiere web designers), you not only get a web developer, but also a marketing expert working on your website. We approach your web design project not as an art project, but as a marketing project.
Attract More Customers From Our "Marketing First" Web Dev Approach …
There's so much more involved in designing a website than just 'pretty looks' to get new customers. Our design process relentlessly focuses on achieving measurable results:
Results. Over the years we have helped hundreds of local professionals and have personally witnessed what works (and also what doesn't) on our client's websites. We record these results continuously in our "things that work" secret swipe files.
Psychology. It is critical to understand who your ideal customer is and what their buying cycle looks like, to designing a website that meets them where they are and guides them into taking the action that you want them to take. We need to ensure your new website "speaks" to your customers.
Looks. After we understand what your desired results are (like phone calls) we then crawl into the mind of your perfect customer, and then we start designing a website that resonates with your perfect customer and reflects your brand.
Website Designers With Vast Experience Of Local Trade & Service Based Businesses In Hampshire
We can quickly design lead generation websites because of our focus on Hampshire businesses including local trade and service professionals like Roofers, Electricians, Accountants, Lawyers, IT Consultants, Storage, etc.
We've designed 100's of local business websites over the past 20 years and we have a 'go to' process that's proven successful time and time again for local businesses. And because of our web development process and recipe for lead generation, we can build amazing websites that are extremely cost effective.
Our Web Design Hampshire Websites Launch With All These Extras:
Take A Look At Some Of Our Website Designs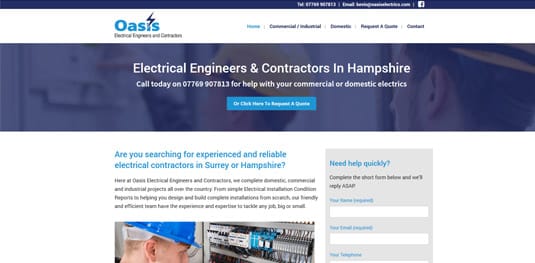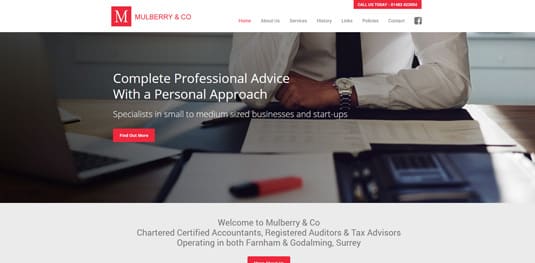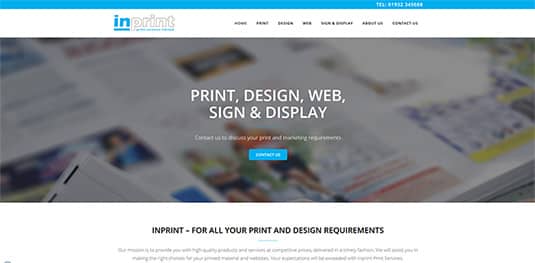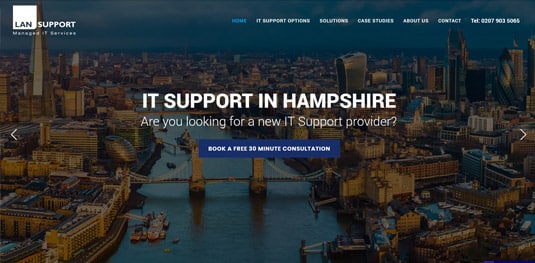 Here's What Our Customers Say About Us:
We recently commissioned Blue Spark Digital to redesign our website and we are very pleased with the result. Not only did they show a great understanding of user interaction and optimised page conversion, they have also developed a marketing strategy which is proving to be invaluable to our business. I would not hesitate to recommend Blue Spark in the future.
Adam T
Are You Ready To Design And Build A Website Together That Generates A Constant Stream Of New Customers For Your Hampshire Based Business?
Send me a brief message using the form below. Briefly describe your business, what the 'ideal results' are that you want out of a website. Then I will personally be in touch ASAP to discuss a way forward.
Summary

Service Type
Provider Name
Blue Spark Digital Ltd
,
Aldershot Enterprise Centre
,
Aldershot
,
Hampshire
-
GU11 2DD
,
Telephone No.01252 912821
Area
Description
Looking for Hampshire web design? We design and build lead generation websites that get Hampshire trade and service professionals a stream of new customers.